COVID 19 Update 23/6/2020
Throughout the COVID 19 pandemic the staff here at Lime Grove Medical Centre have been working hard to ensure that patients can still access urgent care. There have been changes to the way in which some services have been delivered, with the use of remote services such as video consultations and telephone calls being implemented where possible to protect both patients and staff. There has also been the suspension of some non-urgent appointments and services.
As we move forwards and the lockdown is slowly reduced we will be continuing to utilise these remote forms of technology, and only carrying out face to face appointments if they are really necessary, in order to protect both patients and staff from the risk of catching COVID 19.
However, we want you to know that if you feel unwell or have hurt yourself then you can still get the care and treatment you need. You might be worrying about a mole that's changed shape, or grown larger, or a new lump that's appeared and have been putting off giving your GP a call. If you are worried then please do not hesitate to give your GP a call.
Everyone in the NHS really appreciates people taking pressure off services for conditions that can be safely managed with over-the-counter medicines, and taken care of at home. However, it is crucial that for anything else that you do not risk life or wellbeing – contact NHS 111 online or by phone, get in touch with your GP, visit an Urgent Treatment Centre, or for emergencies go to A&E or call 999.
TRENT PTS
WE CAN HELP
For those in need of emotional and psychological support at this difficult and challenging time, Trent PTS is continuing to provide a service for all patients registered with a Derbyshire GP (This service is NHS funded). If you would like psychological support and are aged 16 years or over you can self-refer. Please go to our website to complete a referral and we will be in contact to arrange your first appointment.
As we continue to accept new referrals, we are now offering our services by phone, webcam, using online text-based therapies or through online support packages so as to maintain social distancing.
You can also call the telephone number below, to talk to a member of our team about the services we offer.
01246 385 752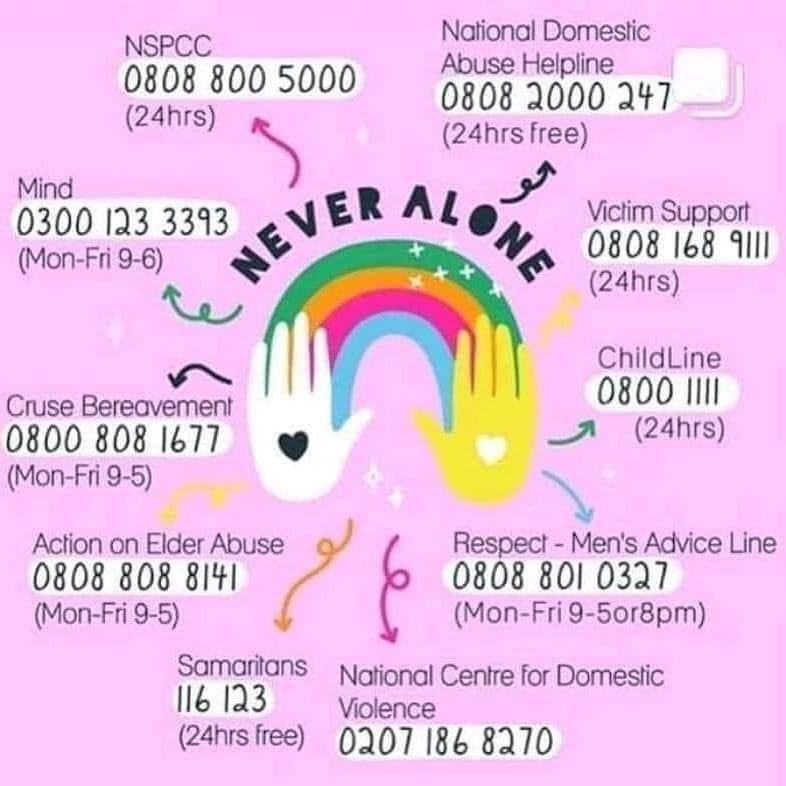 Domestic Abuse – where to get help
Click HERE to open the poster.
Free e-books, e-magazines, e-audiobooks and e-newspapers
Download free e-books, e-magazines, audiobooks and e-newspapers onto your computer, phone or tablet. Derbyshire County Council offer a wealth of books, newspapers and magazines available online from Derbyshire Libraries and you can access these and other information by registering using your library card.
Click HERE to find out more.
Tesco Bags of Help COVID-19 Communities Fund

Tesco Bags of Help is responding to the current Coronavirus (COVID-19) crisis by setting up a new short-term fund to support local communities. Due to the need to respond quickly to the emergency we have created a streamlined application process and payment process to make it easier to get funds distributed quickly. If your application is successful the fund will provide a single payment award of £500 to organisations who are supporting vulnerable groups. The programme is set up to support organisational need in this time of crisis rather than fund specific projects. Typically, the fund will prioritise organisations;
- whose need for services has been disrupted – for example a food bank whose stocks are running low and need an immediate donation to enable the food bank to restock.
- require to put in place new services – for example charities setting up a new home service for the elderly who usually attend a monthly lunch club or a charity needing to set up a telephone service to support beneficiaries.
- Increased demand – a holiday hunger club needs more resources due to schools closing, or a children's centre needs an additional temporary staff member.
Applications will be welcomed from a wide range of organisations including: voluntary/community organisations, registered charities, schools, health bodies, Parish/Town councils, social enterprises, Community Interest Companies, community councils, local authorities and social housing organisations. Other not-for-profit organisations might also be eligible.
Businesses and 'for profit' organisations are not eligible. To find out more and apply click HERE.
Bolsover Together launches COVID volunteering scheme

In partnership between BCVS and Bolsover District Council, Bolsover Together have launched a way of signing up as a community volunteer across Bolsover District.
People who sign up to the scheme will receive a call from a local support officer from BCVS and will then be connected to a community organisation offering support services to people at this difficult time. With that organisation, they will be able then to negotiate the details of how they can help. Please follow this link: https://www.bcvs.org.uk/bolsover-together/item/sign-up-as-a-volunteer-for-bolsover
Junction Arts newsletter
Illuminated letters from The Art of Letter Writing project, Pinxton and Blackwell
View the latest Junction Arts newsletter by clicking HERE and read about what they doing and the new ideas they are developing.
Help keep children safe during the coronavirus outbreak

Derbyshire residents are being encouraged to 'say something if you see something' to help keep children and young people safe during the coronavirus outbreak.
Derbyshire County Council (DCC) are highlighting the national partnership campaign message to respond to a potential increase in safeguarding and domestic abuse issues during lockdown.
Children and young people are usually seen by lots of different adults and professionals every day such as neighbours and teachers but essential lockdown means normal opportunities they would have to notice any problems or check on their wellbeing are reduced.
Where possible schools across Derbyshire have remained open and are continuing to teach vulnerable children identified as needing additional support as well as those of key workers. Meanwhile DCC are appealing for a community 'say something if you see something' approach to help keep children and young people at risk safe.
Cabinet Member for Young People Councillor Alex Dale said:
"Most children and young people across Derbyshire will be adapting well to the new situation and continuing to learn, play and exercise at home safely.
"But it is a stressful time for everyone with new challenges and worries which in some families may increase the risk of neglect and abuse - and at a time where there are fewer opportunities for the usual support networks such as friends, teachers, grandparents and neighbours to spot any warning signs.
"Spending much more time at home means some families may need extra support with parenting and I want to remind people we can all play a part in helping to keep children and young people safe by checking in with families where we can - it's everyone's job.
"While people are seeing less of each other there are still opportunities to spot signs of potential child abuse, such as when people are out exercising, in their gardens or shopping or arguments you may overhear.
"Saying something if we see something is one clear and simple way we can all help and we have our 'Starting Point' referral service making it as easy as possible for people to contact us with any concerns."
Residents who are worried about a child can find support, advice and information about staying safe during the COVID-19 pandemic, as well as how to report their concerns, plus find help to deal with domestic abuse.
Zoom - staying safe online
With more of our interactions going online, people are using a variety of tools to stay connected and it's important that to protect ourselves and each other by taking some precautions.
Zoom is one tool that many people are currently using to host web chats and video conferencing.
There have been reports that internet trolls are using Zoom's screen-sharing feature to blast other viewers with upsetting videos from across the internet, from violence to shocking pornography, but there are ways you can stay safe.
Click HERE to read an article put together by the University of Derby.
How to keep in touch and stay safe online

East Midlands Special Operations Unit have collated advice on "How to keep in touch and stay safe online" including:
How to create a strong memorable password

ZOOM video security

NHS England scam emails
Click HERE to view their advice.