Covid- 19 Booster - update
Covid-19 Boosters
We are currently awaiting confirmation of delivery dates for COVID-19 boosters. As soon as we have confirmation we will invite in priority order.
Boosters can only be given 180 days after your 2nd vaccine or after this time.
If you receive communication from NHSE, inviting you to book in for your booster, you are more then welcome to book in via the national booking system.
Thank you for your patience and understanding.
Team LGMC
Self-isolation rules have changed
The law on self-isolation is changing on 16 August.
More info
https://www.gov.uk/.../self-isolation-removed-for-double...
Close contacts of positive
#COVID
-19 cases will no longer need to self- isolate if they are either:
Instead you should take a free PCR test- book online, call 119 or visit a test site.
From 17 May 2021, people in England who have been fully vaccinated against COVID-19 can demonstrate their vaccination status for international travel. A full course is currently two doses of any approved vaccine. Vaccine status will be available from:
It may take more than a week for your identity to be checked and verified so you can use these services.
If you cannot access these online services, and you have had two vaccines, you can request a paper letter from the NHS by calling 119. Only call 119 if you had your second dose more than five working days ago. It may take seven working days for the letter to arrive.
This practice is not able to provide you with a letter that shows your COVID-19 vaccination status.
When you're planning your travel, check the latest information on demonstrating your COVID-19 status when travelling abroad on the gov.uk website. Make sure there is time to get proof of your vaccination status before you leave.
22/02/2021
Good Evening
Happy Monday everyone!
Apologies for the delay in providing a recent update, we have been beavering away vaccinating and wanted to make sure that the information we provided was accurate and as up to date as we could.💉
✨At present we are really please to advise that all our patients confirmed in cohorts 1-4 have been offered the vaccine. We have done these via a mixture of larger joint clinics at Newholme Hospital where our given delivery has been the Pfizer vaccine (this cannot be given in surgery due to the fragility of the vaccine), in surgery with the Oxford Astra Zeneca vaccine, and out in the community on home visits.
Which vaccine we are given is not known until a week before and unfortunately do not have control over which vaccine or how much vaccine we are given as this is a National effort to ensure vaccine is distributed fairly, so please bear with us with this.🙏🏼
👏Derbyshire Primary Care has worked really hard delivering these vaccines since Christmas and as such are the 2nd best performing county in the country at present, so thank you to everyone that has attended for vaccines, taken relatives for vaccines travelled to Bakewell for their vaccines and been understanding and supportive to our weary staff every weekend, this really is a community effort.🏙🤝🏼
So what's next?🤷🏼‍♀️
We have already started calling in cohorts 5 and 6 to have their vaccinations and will continue to work our way through these cohorts as quickly as vaccine allows. If you are classed as vulnerable or a carer as per the government cohorts we will be contacting you imminently so please bear with us.☎
You may receive a letter for a mass vaccination site in the interim, and if this works better for you to attend there rather than wait for your surgery invites then please do so👍🏼🏥
We are trying to invite as many of you as possible via an automated booking system over the next few weeks, this will mean that you can book directly through a link in the text rather than having to ring the surgery. So you can be reassured that the text is genuine our text will be signed off from Lime Grove Surgery.💻
In the next few weeks we will also be starting to complete the 2nd dose vaccinations of those patients in care homes and that had early vaccinations on New Years weekend, so real progress is being made.🌈
I hope after today's announcements from parliament and the little bit of sunshine we saw today, that we can all start to look forward to brighter times ahead🌞
Stay Safe
Team LGMC 💙
05/01/2021
Good Afternoon -In light of last nights announcement it seemed appropriate to provide a further update regarding the current COVID vaccine delivery, to reassure you that as a nation and as the NHS we are working really hard to reach that light at the end of the tunnel 🤞
As some of our patients are aware we started vaccinating our 1st two priority cohorts (as per government guidance) last week.
Our staff were part of a combined collaborative workforce who delivered the fragile Pfeizer vaccine to the majority of mobile patients who are over 80 throughout the New years Bank Holiday weekend.💉
We are aware that this did not cover all of our mobile over 80 year olds, so we have managed to secure more vaccine to be delivered this coming Saturday at Newholme. Our admin staff are working really hard to contact those patients over the next few days to get as many booked in as possible.☎
We have now vaccinated the majority of our care home residents and staff, and again will be travelling out to vaccinate the residual homes and staff this weekend.👩‍🔬
Housebound patients are unable to have the Pfeizer vaccine due to how fragile the vaccine is when travelling, therefore we hope to secure our first small Astra Zeneca vaccine delivery imminently so we can start to travel out to our housebound patients and ensure they are vaccinated. Please do not contact us, we will contact you, including next of kin where needed.
We are working tirelessly behind the scenes alongside other local practices in the Derbyshire Dales to ensure we capture as many priority patients as quickly as possible with the vaccine stock available (something we have no control over)
Thank you for supporting us by not contacting the surgery to request vaccine in the interim.
Team LGMC🌈
30/12/2020
Good Afternoon,
We are pleased to up date you on what has been a busy week of planning and collaboration with local practices and services to bring the COVID vaccine to patients in the Derbyshire Dales.
This morning we have been out vaccinating 2 of our largest care homes in the area, and will be completing the remaining homes over the next few days as vaccine deliveries allow.
On top of this we are running a large collaborative clinic at Newholme hospital for our first eligible cohort of patients (80yrs and over) across the New Year Weekend. Our reception and admin teams have been working really hard to contact those that are eligible and booking the appointments in.
We hope that this local update, alongside positive progress with the vaccine programme nationally, will help bring some much needed festive cheer and an air of hope for the new year.
As we start to say goodbye to 2020 and hello to 2021, we wanted to say a big thank you to all our patients for the support you have shown the surgery through this difficult year, it has been very much appreciated.
Stay Safe and Look after each other
Team LGMC
14/12/2020
Good Morning 🙋🏼‍♀️
Monday brings with it feelings of hope as plans to deliver the COVID vaccine locally are developing with the coordination of multiple local health services who will be coming together to provide joint clinics in large , safe, monitored locations. 💉
Eligible patients will be contacted directly as soon as vaccine delivery schedules allow and in the prioritised order mandated by NHS England. Please help us to keep our phone lines as accessible as possible for poorly patients by not contacting the surgery directly regarding this at the current time ☎
In the meantime our normal services continue, including our recent weekend catch up flu clinics for the over 50's cohort requested by NHS England at short notice.
With the increased media coverage around GP surgeries supporting the COVID vaccine rollout has also come renewed animosity towards GP surgeries and statements that they have been 'closed throughout'.😢
For this reason we wanted to share our most recent activity data with you around appointments here at Lime Grove. The last month independently audited via NHS Digital was October 2020
👩‍🔬 In this month the number of appointments accessed was 5232 (approx. 1300 per week, 260 per day), with over 56% of these appointment being seen in the surgery or in their own home or nursing/care home (these numbers do not include general enquiries regarding prescription requests, or sick note, supporting letter enquiries).
We hope that providing transparent data and by working with our patients and community we can offer you the reassurance that we are here if you need us 🌈
Please click on the link on the left hand side if you would like information to help with how to stay warm and healthy this winter and who's doing what.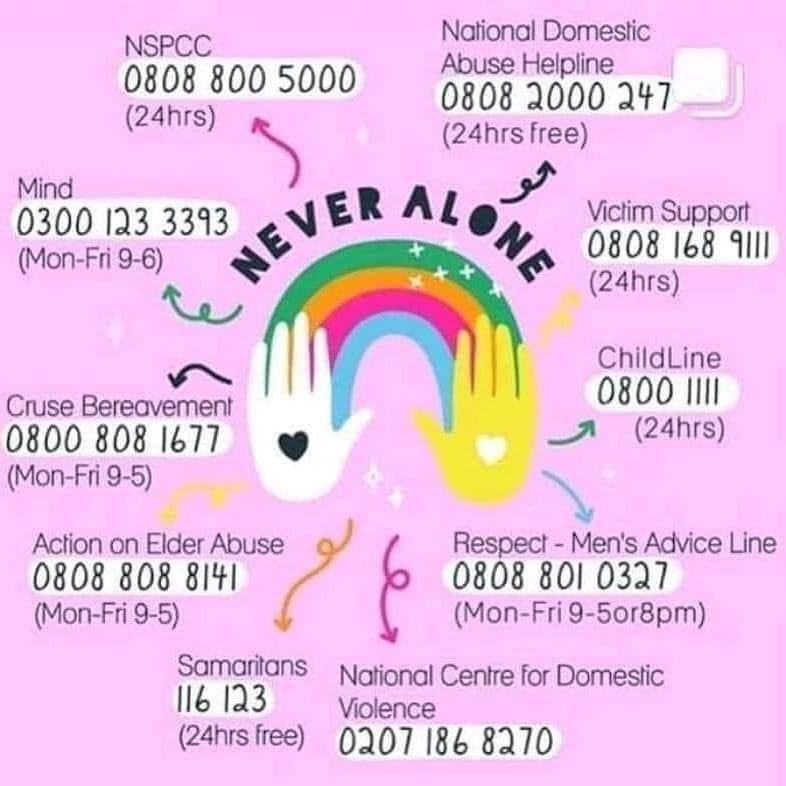 TRENT
WE CAN HELP
For those in need of emotional and psychological support at this difficult and challenging time, Trent PTS is continuing to provide a service for all patients registered with a Derbyshire GP (This service is NHS funded). If you would like psychological support and are aged 16 years or over you can self-refer. Please go to our website to complete a referral and we will be in contact to arrange your first appointment.
As we continue to accept new referrals, we are now offering our services by phone, webcam, using online text-based therapies or through online support packages so as to maintain social distancing.
You can also call the telephone number below, to talk to a member of our team about the services we offer.
01246 385 752

Domestic Abuse – where to get help
Click HERE to open the poster.
Free e-books, e-magazines, e-audiobooks and e-newspapers
Download free e-books, e-magazines, audiobooks and e-newspapers onto your computer, phone or tablet. Derbyshire County Council offer a wealth of books, newspapers and magazines available online from Derbyshire Libraries and you can access these and other information by registering using your library card.
Click HERE to find out more.