From 17 May 2021, people in England who have been fully vaccinated against COVID-19 can demonstrate their vaccination status for international travel. A full course is currently two doses of any approved vaccine. Vaccine status will be available from:
It may take more than a week for your identity to be checked and verified so you can use these services.
If you cannot access these online services, and you have had two vaccines, you can request a paper letter from the NHS by calling 119. Only call 119 if you had your second dose more than five working days ago. It may take seven working days for the letter to arrive.
This practice is not able to provide you with a letter that shows your COVID-19 vaccination status.
When you're planning your travel, check the latest information on demonstrating your COVID-19 status when travelling abroad on the gov.uk website. Make sure there is time to get proof of your vaccination status before you leave.
22/02/2021
Good Evening
Happy Monday everyone!
Apologies for the delay in providing a recent update, we have been beavering away vaccinating and wanted to make sure that the information we provided was accurate and as up to date as we could.💉
✨At present we are really please to advise that all our patients confirmed in cohorts 1-4 have been offered the vaccine. We have done these via a mixture of larger joint clinics at Newholme Hospital where our given delivery has been the Pfizer vaccine (this cannot be given in surgery due to the fragility of the vaccine), in surgery with the Oxford Astra Zeneca vaccine, and out in the community on home visits.
Which vaccine we are given is not known until a week before and unfortunately do not have control over which vaccine or how much vaccine we are given as this is a National effort to ensure vaccine is distributed fairly, so please bear with us with this.🙏🏼
👏Derbyshire Primary Care has worked really hard delivering these vaccines since Christmas and as such are the 2nd best performing county in the country at present, so thank you to everyone that has attended for vaccines, taken relatives for vaccines travelled to Bakewell for their vaccines and been understanding and supportive to our weary staff every weekend, this really is a community effort.🏙🤝🏼
So what's next?🤷🏼‍♀️
We have already started calling in cohorts 5 and 6 to have their vaccinations and will continue to work our way through these cohorts as quickly as vaccine allows. If you are classed as vulnerable or a carer as per the government cohorts we will be contacting you imminently so please bear with us.☎
You may receive a letter for a mass vaccination site in the interim, and if this works better for you to attend there rather than wait for your surgery invites then please do so👍🏼🏥
We are trying to invite as many of you as possible via an automated booking system over the next few weeks, this will mean that you can book directly through a link in the text rather than having to ring the surgery. So you can be reassured that the text is genuine our text will be signed off from Lime Grove Surgery.💻
In the next few weeks we will also be starting to complete the 2nd dose vaccinations of those patients in care homes and that had early vaccinations on New Years weekend, so real progress is being made.🌈
I hope after today's announcements from parliament and the little bit of sunshine we saw today, that we can all start to look forward to brighter times ahead🌞
Stay Safe
Team LGMC 💙
05/01/2021
Good Afternoon -In light of last nights announcement it seemed appropriate to provide a further update regarding the current COVID vaccine delivery, to reassure you that as a nation and as the NHS we are working really hard to reach that light at the end of the tunnel 🤞
As some of our patients are aware we started vaccinating our 1st two priority cohorts (as per government guidance) last week.
Our staff were part of a combined collaborative workforce who delivered the fragile Pfeizer vaccine to the majority of mobile patients who are over 80 throughout the New years Bank Holiday weekend.💉
We are aware that this did not cover all of our mobile over 80 year olds, so we have managed to secure more vaccine to be delivered this coming Saturday at Newholme. Our admin staff are working really hard to contact those patients over the next few days to get as many booked in as possible.☎
We have now vaccinated the majority of our care home residents and staff, and again will be travelling out to vaccinate the residual homes and staff this weekend.👩‍🔬
Housebound patients are unable to have the Pfeizer vaccine due to how fragile the vaccine is when travelling, therefore we hope to secure our first small Astra Zeneca vaccine delivery imminently so we can start to travel out to our housebound patients and ensure they are vaccinated. Please do not contact us, we will contact you, including next of kin where needed.
We are working tirelessly behind the scenes alongside other local practices in the Derbyshire Dales to ensure we capture as many priority patients as quickly as possible with the vaccine stock available (something we have no control over)
Thank you for supporting us by not contacting the surgery to request vaccine in the interim.
Team LGMC🌈
30/12/2020
Good Afternoon,
We are pleased to up date you on what has been a busy week of planning and collaboration with local practices and services to bring the COVID vaccine to patients in the Derbyshire Dales.
This morning we have been out vaccinating 2 of our largest care homes in the area, and will be completing the remaining homes over the next few days as vaccine deliveries allow.
On top of this we are running a large collaborative clinic at Newholme hospital for our first eligible cohort of patients (80yrs and over) across the New Year Weekend. Our reception and admin teams have been working really hard to contact those that are eligible and booking the appointments in.
We hope that this local update, alongside positive progress with the vaccine programme nationally, will help bring some much needed festive cheer and an air of hope for the new year.
As we start to say goodbye to 2020 and hello to 2021, we wanted to say a big thank you to all our patients for the support you have shown the surgery through this difficult year, it has been very much appreciated.
Stay Safe and Look after each other
Team LGMC
14/12/2020
Good Morning 🙋🏼‍♀️
Monday brings with it feelings of hope as plans to deliver the COVID vaccine locally are developing with the coordination of multiple local health services who will be coming together to provide joint clinics in large , safe, monitored locations. 💉
Eligible patients will be contacted directly as soon as vaccine delivery schedules allow and in the prioritised order mandated by NHS England. Please help us to keep our phone lines as accessible as possible for poorly patients by not contacting the surgery directly regarding this at the current time ☎
In the meantime our normal services continue, including our recent weekend catch up flu clinics for the over 50's cohort requested by NHS England at short notice.
With the increased media coverage around GP surgeries supporting the COVID vaccine rollout has also come renewed animosity towards GP surgeries and statements that they have been 'closed throughout'.😢
For this reason we wanted to share our most recent activity data with you around appointments here at Lime Grove. The last month independently audited via NHS Digital was October 2020
👩‍🔬 In this month the number of appointments accessed was 5232 (approx. 1300 per week, 260 per day), with over 56% of these appointment being seen in the surgery or in their own home or nursing/care home (these numbers do not include general enquiries regarding prescription requests, or sick note, supporting letter enquiries).
We hope that providing transparent data and by working with our patients and community we can offer you the reassurance that we are here if you need us 🌈
Please click on the link on the left hand side if you would like information to help with how to stay warm and healthy this winter and who's doing what.
From today, it is compulsory to wear a face covering in shops in the UK. However, CHILDREN UNDER 3 SHOULD NOT wear face coverings - they pose a potential risk of choking and suffocation. Public Health England have issued an urgent warning:
Children aged under three years of age should not wear face coverings or masks
Wearing face coverings/masks is not compulsory in any public setting for children aged 3-11
We advise adults and children over the age of 11 years to wear face masks in enclosed public spaces where it is difficult to socially distance. This may help prevent transmission of virus to someone else if you are infected but do not yet have symptoms
Any adult or child with symptoms should self-isolate in line with the stay at home guidance and get tested.
TEST AND TRACE
If the NHS Test and Trace service contacts you, the service will use text messages, email or phone. When you are contacted through one of these methods, you will see:
• Phone = 0300 013 5000 (Note - new central phone number being used)
• SMS = NHStracing – words within the text refer to NHS Test and Trace
• Email = NHS Test and Trace
What to expect from contact tracers ...
Contact tracers will:
• ask you to sign into the NHS Test and Trace contact tracing website
• ask for your full name and date of birth to confirm your identity, and postcode to offer support while self-isolating
• ask about the coronavirus symptoms you have been experiencing
• ask you to provide the name, telephone number and/or email address of anyone you have had close contact with in the 2 days prior to your symptoms starting
• ask if anyone you have been in contact with is under 18 or lives outside of England
Contact tracers will never:
• ask you to dial a premium rate number to speak to us (for example, those starting 09 or 087)
• ask you to make any form of payment or purchase a product or any kind
• ask for any details about your bank account
• ask for your social media identities or login details, or those of your contacts
• ask you for any passwords or PINs, or ask you to set up any passwords or PINs over the phone
• disclose any of your personal or medical information to your contacts
• provide medical advice on the treatment of any potential coronavirus symptoms
• ask you to download any software to your PC or ask you to hand over control of your PC, smartphone or tablet to anyone else
• ask you to access any website that does not belong to the government or NHS
If you are suspicious of any messages, you should report them. By doing so, you'll be helping to protect many more people from being affected. Email - If you have received an email which you're not quite sure about, forward it to the Suspicious Email Reporting Service (SERS) at report@phishing.gov.uk. Text message - Suspicious text messages should be forwarded to 7726. This free-of-charge short code enables your provider to investigate the origin of the text and take action, if found to be malicious.
COVID 19 Update 23/6/2020
Throughout the COVID 19 pandemic the staff here at Lime Grove Medical Centre have been working hard to ensure that patients can still access urgent care. There have been changes to the way in which some services have been delivered, with the use of remote services such as video consultations and telephone calls being implemented where possible to protect both patients and staff. There has also been the suspension of some non-urgent appointments and services.
As we move forwards and the lockdown is slowly reduced we will be continuing to utilise these remote forms of technology, and only carrying out face to face appointments if they are really necessary, in order to protect both patients and staff from the risk of catching COVID 19.
However, we want you to know that if you feel unwell or have hurt yourself then you can still get the care and treatment you need. You might be worrying about a mole that's changed shape, or grown larger, or a new lump that's appeared and have been putting off giving your GP a call. If you are worried then please do not hesitate to give your GP a call.
Everyone in the NHS really appreciates people taking pressure off services for conditions that can be safely managed with over-the-counter medicines, and taken care of at home. However, it is crucial that for anything else that you do not risk life or wellbeing – contact NHS 111 online or by phone, get in touch with your GP, visit an Urgent Treatment Centre, or for emergencies go to A&E or call 999.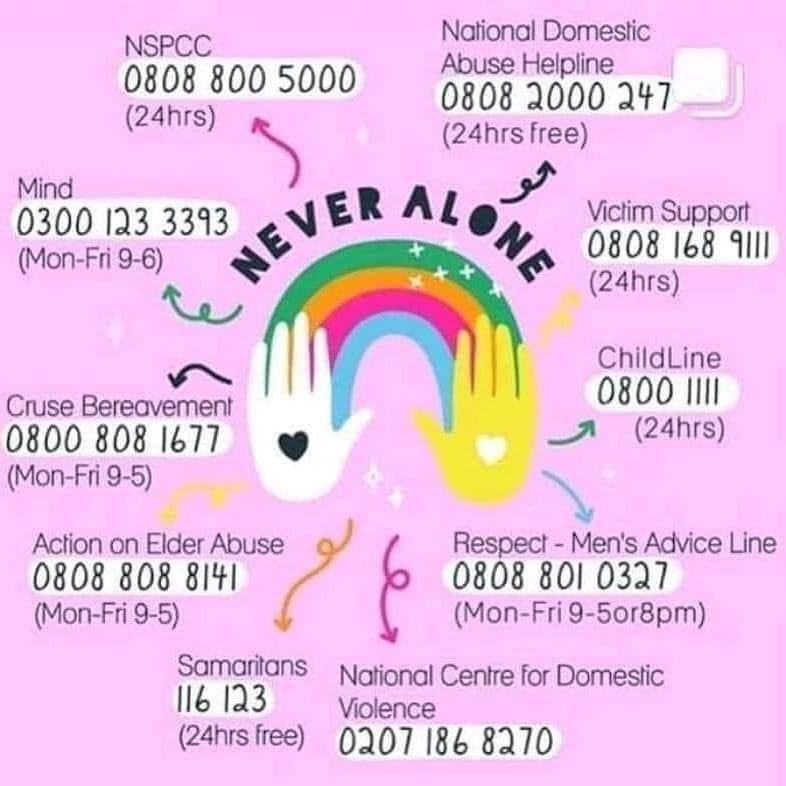 TRENT
WE CAN HELP
For those in need of emotional and psychological support at this difficult and challenging time, Trent PTS is continuing to provide a service for all patients registered with a Derbyshire GP (This service is NHS funded). If you would like psychological support and are aged 16 years or over you can self-refer. Please go to our website to complete a referral and we will be in contact to arrange your first appointment.
As we continue to accept new referrals, we are now offering our services by phone, webcam, using online text-based therapies or through online support packages so as to maintain social distancing.
You can also call the telephone number below, to talk to a member of our team about the services we offer.
01246 385 752

Domestic Abuse – where to get help
Click HERE to open the poster.
Citizens Advice Derbyshire Districts: Seven things to check if you're at risk of redundancy
Citizens Advice Derbyshire Districts has helped 869 people with employment issues since lockdown.
Welfare benefits, debt, employment and housing are the top issues it has dealt with during the pandemic.
Melanie Mallinson, Senior Operations Manager of Citizens Advice Derbyshire Districts, said:
"We have helped people with a huge range of issues since lockdown, but we know that as the furlough scheme draws to an end, lots of people may be feeling worried and need advice.
"If you're at risk of redundancy, it's important to know you do have rights to help protect you from unfair dismissal and to ensure you're paid what you're owed.
"It's completely understandable that you may find the rules and procedures overwhelming, but you don't have to face redundancy alone. We are here to help."
• For information and advice, contact Citizens Advice Derbyshire Districts Our telephone adviceline is open Monday to Friday, 9am to 4pm. 0300 4568390 (Calls are charged at the same rate as 01 or 02 numbers)
Citizens Advice Derbyshire Districts : Seven things to check if you're at risk of redundancy
Check if your redundancy is fair. There are rules to protect you from being discriminated against, and for being picked for redundancy due to an unfair reason. For example, although you can be made redundant while pregnant or on maternity leave, you cannot be made redundant because you're pregnant or on maternity leave. If you are this counts as "automatic unfair dismissal" and discrimination.
Examples of unfair reasons for redundancy can include being picked because you work part-time or you made a complaint about health and safety. See Check if your redundancy is fair for more information.
Check how much redundancy pay you get. You're entitled to statutory redundancy pay, which is the minimum the law says you're entitled to, if you've been an employee for two years. The amount you will get depends on your age and how long you have worked for the company. You won't get statutory redundancy pay if you've worked for the company for less than two years, are self-employed or are in certain professions such as the armed forces or police. You may also lose out on statutory redundancy pay if you turn down a suitable alternative job from your employer without a good reason. Your employer may also pay extra money on top of the statutory amount you're entitled to - this is called contractual redundancy pay. Some employees may be entitled to contractual redundancy pay even though they are not entitled to statutory redundancy pay.
Furloughed? Make sure you get 100% redundancy pay. If you were furloughed and then made redundant, your redundancy pay should be based on your normal wage. If you were paid 80% of your wages while on furlough, your redundancy pay should be based on your full wage.
Check your notice period. If you've worked for your employer for at least a month you're entitled to a paid statutory notice period. If you've worked there for more than a month but less than two years, you have to be given a week's notice. For two years or more, it's a week for each full year you have worked, up to a maximum of 12 weeks. You may be entitled to a longer notice period as part of your employment contract.
Your notice period only starts when your employer says you'll be made redundant and gives you a finishing date - not when your employer says you're at risk of redundancy. Your employer might decide to give you notice pay instead of your notice period - this is called 'pay in lieu of notice'.
Check your holiday pay. You'll be paid for any holiday you have left over when you leave. This should be at your normal rate's pay, even if you're currently furloughed on 80% of your pay. You can ask to take holiday during your notice period, but it's up to your employer to decide if you can take it then. Your employer can also tell you to use up any holiday you have left over, but they must give you notice. The notice must be at least twice as long as the holiday they want you to take.
You might be entitled to paid time off to look for work. If you've worked for your employer for two years at the end of your notice period, you're likely to be entitled to 'reasonable' time off to apply for jobs or go on training. You can take the time off at any time in normal working hours and your employer can't ask you to rearrange your work hours to make up the time off. When taking time off to look for work, you'll be paid at your normal hourly rate, but only for up to 40% of a week's work - for instance for up to two days if you work a five day week. See preparing for after redundancy for more information.
Check if you've got legal help via your home insurance. Often people get 'legal expenses cover' as part of their home insurance package, but many don't realise they can get free legal help to challenge their redundancy if they think it's discriminatory or unfair. It's worth checking the terms and conditions and speaking to your insurer if unsure.
If you have a trade union at work, you could also contact them. Your union can help you work out if you've got a claim, and support you through the process, for example by going to meetings with you or negotiating on your behalf.
You can visit Citizens Advice's pages on leaving a job for further information and advice.
For more information please contact - adminteam@ddcab.org.uk
Free e-books, e-magazines, e-audiobooks and e-newspapers
Download free e-books, e-magazines, audiobooks and e-newspapers onto your computer, phone or tablet. Derbyshire County Council offer a wealth of books, newspapers and magazines available online from Derbyshire Libraries and you can access these and other information by registering using your library card.
Click HERE to find out more.
Tesco Bags of Help COVID-19 Communities Fund

Tesco Bags of Help is responding to the current Coronavirus (COVID-19) crisis by setting up a new short-term fund to support local communities. Due to the need to respond quickly to the emergency we have created a streamlined application process and payment process to make it easier to get funds distributed quickly. If your application is successful the fund will provide a single payment award of £500 to organisations who are supporting vulnerable groups. The programme is set up to support organisational need in this time of crisis rather than fund specific projects. Typically, the fund will prioritise organisations;
- whose need for services has been disrupted – for example a food bank whose stocks are running low and need an immediate donation to enable the food bank to restock.
- require to put in place new services – for example charities setting up a new home service for the elderly who usually attend a monthly lunch club or a charity needing to set up a telephone service to support beneficiaries.
- Increased demand – a holiday hunger club needs more resources due to schools closing, or a children's centre needs an additional temporary staff member.
Applications will be welcomed from a wide range of organisations including: voluntary/community organisations, registered charities, schools, health bodies, Parish/Town councils, social enterprises, Community Interest Companies, community councils, local authorities and social housing organisations. Other not-for-profit organisations might also be eligible.
Businesses and 'for profit' organisations are not eligible. To find out more and apply click HERE.
Bolsover Together launches COVID volunteering scheme

In partnership between BCVS and Bolsover District Council, Bolsover Together have launched a way of signing up as a community volunteer across Bolsover District.
People who sign up to the scheme will receive a call from a local support officer from BCVS and will then be connected to a community organisation offering support services to people at this difficult time. With that organisation, they will be able then to negotiate the details of how they can help. Please follow this link: https://www.bcvs.org.uk/bolsover-together/item/sign-up-as-a-volunteer-for-bolsover
Junction Arts newsletter
Illuminated letters from The Art of Letter Writing project, Pinxton and Blackwell
View the latest Junction Arts newsletter by clicking HERE and read about what they doing and the new ideas they are developing.
Help keep children safe during the coronavirus outbreak

Derbyshire residents are being encouraged to 'say something if you see something' to help keep children and young people safe during the coronavirus outbreak.
Derbyshire County Council (DCC) are highlighting the national partnership campaign message to respond to a potential increase in safeguarding and domestic abuse issues during lockdown.
Children and young people are usually seen by lots of different adults and professionals every day such as neighbours and teachers but essential lockdown means normal opportunities they would have to notice any problems or check on their wellbeing are reduced.
Where possible schools across Derbyshire have remained open and are continuing to teach vulnerable children identified as needing additional support as well as those of key workers. Meanwhile DCC are appealing for a community 'say something if you see something' approach to help keep children and young people at risk safe.
Cabinet Member for Young People Councillor Alex Dale said:
"Most children and young people across Derbyshire will be adapting well to the new situation and continuing to learn, play and exercise at home safely.
"But it is a stressful time for everyone with new challenges and worries which in some families may increase the risk of neglect and abuse - and at a time where there are fewer opportunities for the usual support networks such as friends, teachers, grandparents and neighbours to spot any warning signs.
"Spending much more time at home means some families may need extra support with parenting and I want to remind people we can all play a part in helping to keep children and young people safe by checking in with families where we can - it's everyone's job.
"While people are seeing less of each other there are still opportunities to spot signs of potential child abuse, such as when people are out exercising, in their gardens or shopping or arguments you may overhear.
"Saying something if we see something is one clear and simple way we can all help and we have our 'Starting Point' referral service making it as easy as possible for people to contact us with any concerns."
Residents who are worried about a child can find support, advice and information about staying safe during the COVID-19 pandemic, as well as how to report their concerns, plus find help to deal with domestic abuse.
Zoom - staying safe online
With more of our interactions going online, people are using a variety of tools to stay connected and it's important that to protect ourselves and each other by taking some precautions.
Zoom is one tool that many people are currently using to host web chats and video conferencing.
There have been reports that internet trolls are using Zoom's screen-sharing feature to blast other viewers with upsetting videos from across the internet, from violence to shocking pornography, but there are ways you can stay safe.
Click HERE to read an article put together by the University of Derby.
How to keep in touch and stay safe online

East Midlands Special Operations Unit have collated advice on "How to keep in touch and stay safe online" including:
How to create a strong memorable password

ZOOM video security

NHS England scam emails
Click HERE to view their advice.